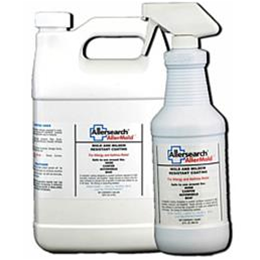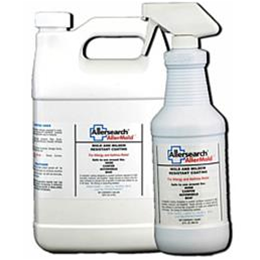 Treatment Application
Remove existing mold and mildew on surface by applying AllerMold™ to surface and scrubbing surface. Rinse surface off completely and allow surface to dry. Re-apply AllerMold™ to surface to prevent View more
Treatment Application
Remove existing mold and mildew on surface by applying AllerMold™ to surface and scrubbing surface. Rinse surface off completely and allow surface to dry. Re-apply AllerMold™ to surface to prevent the re-growth of mold and mildew. Re-apply AllerMold™ every 60 days for continued protection*.
*For areas with high moisture, re-apply every two weeks
Prevent the Re-growth of Mold & Mildew
Use Allersearch® AllerMold™ throughout your home on:
Shower Stalls
Wall Tile
Grout
Kitchen Areas
Basements
Window Frames
Siding
Patio Furniture
Campers
Garages
Crawl Spaces
Fencing
AllerMold™ is a spray that creates a resistant coating to inhibit the growth of mold and mildew. In the aftermath of hurricanes and flooding, we've seen the devastating toll that mold & mildew can take on homes and buildings. Did you know that mold can grow in as little as 24 to 48 hours? And removing it is costly and time consuming.
For years bleach and water was used to remove the visible mold spores, but that does nothing to prevent mold spores from returning and colonizing the treated surface.
AllerMold™ does just that!